The Economy Camo Coolie is a uniquely designed foam sleeve that fits over a beverage can. It keeps the can cool, eliminates condensation, and allows it to be held comfortably without cold fingers.
This product from PersonalizedDrinkware.com has an eye-catching camouflage design that comes in green or tan. It can be imprinted on both sides and on the bottom, with a choice of over 20 different ink colors. Whether you are designing a personalized koozie for your next trade show, for employees, or as a party favor to commemorate a family reunion or bachelor party, the possibilities are endless
The camo coolie is made out of one of our most popular materials: high-density, open-cell scuba foam. These coolies collapse into a flat package and are easy to tuck into a purse, briefcase, carry-on bag, or suitcase. They are lightweight and perfect to take on picnics or trips, or can be kept in the glove compartment in the car for use at sporting events.
When you order from PersonalizedDrinkware.com, you can upload your own company logo, drawing, or image, or choose from the hundreds available in our free online clipart gallery. The camo coolie is one of our most economical products and can be customized in quantities as small as 25, or into the thousands. Standard orders are printed within five days of ordering, but one to three day rush jobs are available for a small extra charge. So if you're in a hurry, go ahead and contact us, we can make it happen!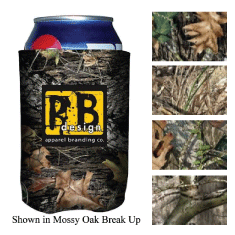 At PersonalizedDrinkware.com, there are no set-up fees. When you place your order we will set up your design for free, and will email you a proof. And we won't print until you approve it. We also offer free shipping, and there are no hidden fees.
These coolies are perfect for weddings, family reunions, company events, and more. Whimsical and fun, this coolie is the perfect background for a creative design. Let your imagination go wild! What are you waiting for? Come to PersonalizedDrinkware.com and start your order today!