Customized Koozies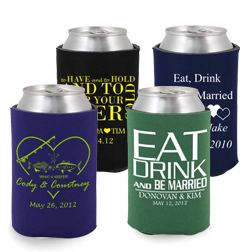 Standard Coolie
Minimum Order

: 25

Imprint Area

: Two Sides & Bottom

Available Colors

: 12 Coolie Colors

Description

: Collapsible Scuba Foam
Starting at $0.41
Order Now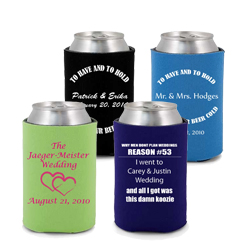 Premium coolie
Minimum Order

: 25

Imprint Area

: Two Sides & Bottom

Available Colors

: 24 Coolie Colors

Description

: Collapsible Scuba Foam
Starting at $0.41
Order Now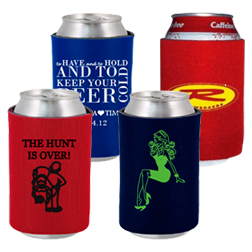 Bottomless Collapsible Coolies
Starting at $0.41
Order Now
Personalized Koozies
Premium Neoprene Can Cooler - Imprinted - Koozie
Starting at $0.65
Order Now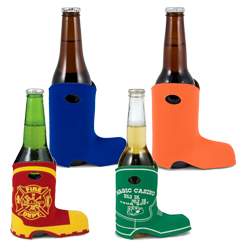 Boot Coolies - Cowboy, Fireman Koozies
Minimum Order

: 25

Imprint Area

: Two Sides

Available Colors

: 32 Coolie Colors

Description

: Collapsible Scuba Foam
Starting at $0.89
Order Now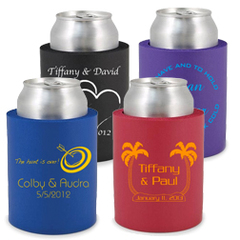 Hard Foam Coolies
Starting at $0.73
Order Now
Personalized Koozies keep drinks cold and allow for easy customization
Koozies are fashionable drinkware accessories that make wonderful additions to any home, office, boat, or car. Everyone needs to stay hydrated throughout the day, and nothing quenches thirst better than your favorite beverage, kept nice and cool with a stylish coolie or koozie. They make the perfect presents because they are unique, affordable, customizable, and versatile. Best of all, all of our products are easy to order and can be made into personalized koozies to highlight your favorite team, product, event, or even favorite photo. We offer a wide selection of clipart to choose from but you can make changes to your custom koozies with any of our designs until you are satisfied.
Personalized Koozies

In contrast to basic drink holders, ours are available in a variety of colors, styles, shapes, patterns and textures. For instance, you can choose from neoprene coolies, leather-like coolies, or camouflage coolies. You can even buy customized boot coolies or jersey coolies for less than $1.00 each. Imagine how much more memorable your Super Bowl party would be if you greeted each guest with a jersey coolie sporting their names. For under $100, you could buy 100 personalized jersey coolies!
Personalized koozies are frequently seen at bridal showers, bachelor parties and bachelorette parties. This is where you get to have lots of fun creating an often entertaining quote on your customized drink koozies to hand out to your guests.


Affordable
For buyers who are particularly cost-conscious, budget coolies offer the perfect gift idea. With a starting price of forty-one cents each, the budget coolie is our most economical way to cool your drinks. Budget coolies are available in 12 colors and offer the most cost-effective way to keep your canned drinks cool. With a choice of collapsible and bottomless styles, you can buy customized budget coolies for all 100 people coming to your office party for under $50.


Custom Koozies
The possible uses for custom koozies are endless! Available in styles to fit both bottles and cans, our insulators can be used to promote your favorite sports team, business, school, phrase, or picture. They can be distributed at trade shows, grand openings, and promotions. You can choose between our standard slip-on style or our zippered versions, and can opt for bottomless coolies or those with personalized bottoms. There are even koozies available in leather-like styles and those insulated with neoprene! Custom koozies are also frequently used at weddings.
As a popular wedding favor these items can often be seen with the following phrases:

To have and to hold and to keep your drink cold!
Eat, drink & be married
The Hunt Is Over!
I went to BRIDE and GROOM's wedding and all I got were these custom koozies!



Versatile
With a small, lightweight design, our beverage insulators are easy to store and transport. Some coolies even have a collapsible design that makes transporting them even easier. Because of their small size, light weight, and portability, coolies and koozies can be shipped in bulk for a fraction of the cost of shipping other gifts. In fact, free shipping is offered with many models to customers in the United States. Being so versatile makes personalized koozies a favorite for most anyone.
Koozies Make Great Gifts that are Easy to Order!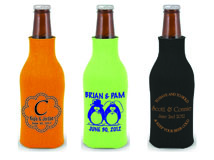 Coolies make wonderful presents, especially for people who need to buy gifts in bulk. Imagine being able to give a useful, customized present to all 200 people in your office for under $100!! Ordering coolies and koozies is an easy process.
Simply choose the model or style that you prefer, along with a color and the quantity that you require. Then contact us by phone at 866-989-8880 or via email at sales@personalizeddrinkware.com. Your personalized koozies will arrive at your door within days!